Spectrum Engravers

See what is new on the Spectrum Engravers
Learn about the levels of automation on Spectrums
Fast. Productive. Reliable. Flexible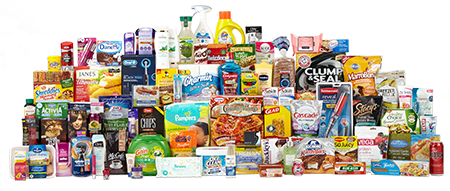 The Spectrum engraver was designed for packaging and decorative cylinder producers who need to engrave high quality cylinder with speed and consistency. The basic Spectrum provides automated features to aid productivity. The Automated Spectrum can be dropped into a fully automated AutoCon line. All Spectrums have symmetrically moving head- and tailstocks.
All Spectrums are equipped with the fast and reliable Vision 3 engrave head for unprecedented performance and quality. Optional Hybrid and Impact engraving may be added in place of standard tunes.
The network-accessibility of the Spectrum makes the engraving data in the Engraver Dashboard accessible from anywhere -- the Birth Certificate, DocuCell and Vital Proof information.
The Spectrum engraver expands your capabilities and potential markets, with its wide screen and stylus range, cylinder sizes, automatic setup, fast engrave heads, and specialty engraving options. It can even be scaled down to match Hell engraving.
A Machine to Fit Your Needs
The Spectrum is available in several sizes: Compact, Packaging, Decorative and the Large Format.
Compact and Packaging -- The packaging market is the primary target of these models. The machines use a symmetrical design with movable headstock and tailstock. The Packaging model is also well suited to the securities market.
Decorative -- This larger size machine accommodates cylinders with wider face widths.
Large Format -- For specialty markets requiring large circumference cylinders: laminates, wall coverings, cartons, and more
Automated - The Compact, Packaging and Decorative engravers can be fully automated.
Features of all Spectrums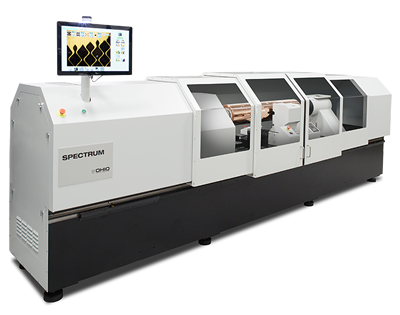 One-button machine with Vista system. High resolution camera is integrated on engrave head for real-time cell measuring. Automatic cylinder length verification. Automatic engrave head positioning. Automatic head setup. Stylus profile. Automatic Fast Advance. Automatic test cut and, if you choose, automatic second test cut after production engraving completes. Or use QuickCell with operator verification.
End seeking sensors, for automatic head positioning, are now standard with the Spectrum. Contact OHIO or your local representative to see if your older Spectrum engraver can be upgraded. Contour Measurement software improves cell measurement on Spectrum and Prism Prime engravers.
Additional features: Motorized enclosure doors. Symmetrically moving head- and tailstock. High speed linear drive. Motorized engrave head shoe and burr cutter. Tip Calibration. Mid-tone stylus correction. Network-accessible Birth Certificate.
The latest technology includes: New style FET power amps; new power electronic design for improved reliability; a new head mount for improved cell consistency on non-concentric cylinders; enhanced servo cylinder drive for a wider speed range with more screens and cylinder sizes. Optional features include Hybrid Engraving, Helio Match, Vital Proof System, DocuCell System, and Volume Test Cut (coming soon).
Automation Features
The standard Spectrum includes many automated features to aid in productivity, like cylinder length and cylinder runout verification, and automatic test cut positioning and setup. An Automated Spectrum can be dropped into an AutoCon line and just work. OHIO gives you choice in how you configure an Automated Spectrum: cylinder supports; circumference verification; auto cylinder clamping (hollow cylinders); auto cylinder chucking (shafted cylinders); keyway detection; AutoCon Crane / Scheduling interface.
Cylinder spindle configuration options
We offer cylinder spindle options for shafted cylinders, shaftless (hollow) cylinders, and universal (both shafted and shaftless). This symmetrical machine uses the same option on both headstock and tailstock.
For Hollow Cylinders Only
For Shafted Cylinders only
Direct Cones
3-Jaw Chucks

Direct Cones -- Bore range: 55 mm - 125 mm

Compact: 200 mm

Packaging: 200 mm or 315 mm

Decorative, Large Format: 315 mm
For both Hollow and Shafted Cylinders
Inner / Outer Cones
3-Jaw Chucks with Arbor/Cones

Outer diameter cylinder bore range: 75 mm - 115 mm

Inner diameter cylinder shaft diameter range: 26 mm - 68 mm

Add the universal arbor/cones to the 3-Jaw chucks to handle shaftless cylinders

Bore range: 55 mm - 125 mm
Chuck Specifications — Range of shaft diameters
| Description | 200 mm Chuck | 315 mm Chuck |
| --- | --- | --- |
| Throat diameter | 55 mm | 103 mm |
| Minimum shaft diameter | 10 mm | 10 mm |
| Maximum shaft diameter | 100 mm | 165 mm |
| Maximum shaft swallow depth | 79 mm | 99 mm |
Machine Size, Cylinder Sizes and more
Please see the specifications sheets for the machine size, cylinder size, and other information:
Compact, Packaging, Decorative, and Large Format.
View these and the Spectrum brochure on the Sales Literature page.
Options
The Spectrum engravers can be fitted with a number of options to suit your needs.
Hybrid Engraving System
The transcribe Engraving System
Impact Engraving
The Vital Proof System
Hell Match/DTG Match
Automation Features Not available on Large Format engraver
OHIO also offers customization options not available on other machines. Need 315 mm chucks on a Packaging machine? Need custom Direct Cones for your very small cylinders? Please discuss your cylinder requirements with us and we will do our best to accommodate you.