PDF File Name and Document Title
Creating PDF: Preventing Problems with File Names
When creating PDF to be ripped for Collage, you probably already know that the file name should contain no space or special characters. But you also need to make sure that the Document Title is empty. The Xitron RIP will use the Document Title if it is present instead of the File name. That is what will be displayed in the Image Converter. If you are not expecting this, it can be frustrating.
Ask the designer who creates your PDFs, to make sure that no Title is entered. (The Title field should be empty).
If a Title was entered, you can see this by opening the PDF file, File > Properties.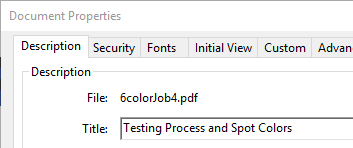 If you have full Acrobat , you can remove the text in the Title field and save the file. You cannot do this with Acrobat Reader.
If you have any questions, please contact OHIO.