Color Names

Creating PDF: Color Names
When an image is created, each color name is stored in the PDF file. The RIP uses that color name information to assign each color to a separation in Collage. In the Collage Gravure Paramenters window, each separation should have a name that matches the color names in the PDF.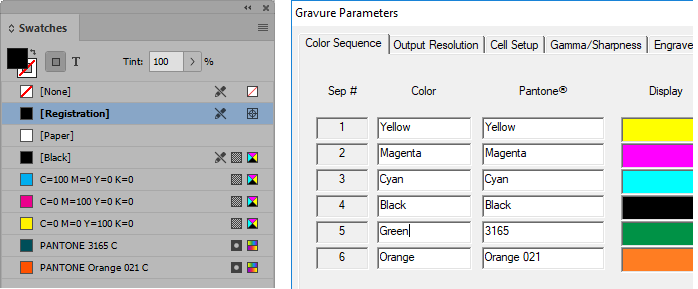 Note that the "Pantone" field in Gravure Parameters is what is matched to the colors in the PDF file. The "Color" field can be any text useful for you to identify which separation is being used for what, such as "die".
Always complete the Color Sequence tab of the Gravure Parameters window before importing your image.
After importing the image, you can check or correct the color mapping: In the Image List window, select the image and click Remap.

The LW/HCT Image Channel lists the separations from the PDF. It shows the file name and color name. Here, the PDF was called "6colorJob" and it was created with the process colors and two spot colors. Note that #5 is called PANTONE 3165 C and it is matched with the Green Print Color. This is because the Pantone field in the Color Sequence page is set to 3165.
The Print Color names are the names set in the Color fields on the Color Sequence page.
When color names are not correct
Recently a customer shared a picture of their Remap window, asking why the separations are not mapping properly to the Print Colors. As you can see on the left side below, the colors in the original image file were not named properly.

The solution is for the designer to modify the original image using valid colors and then rip it again.
You can fix some problems in Collage
When the RIP cannot match the color names of the image to the Print Colors, then each separation is just listed in order that they were ripped. You can use the Remap window to map a Print Color with a separation. You cannot change anything in the Image Channel column, but you can change the Print Color.
For example, the PANTONE 2758 separation was set to Print Color BLANCO OPACO.
Right click in the Print Color field and select the correct color BLUE 2758 from the drop-down menu.

Refer to the Collage online help. In the Search box, enter Remapping Channels.
If you have any questions, please contact OHIO.